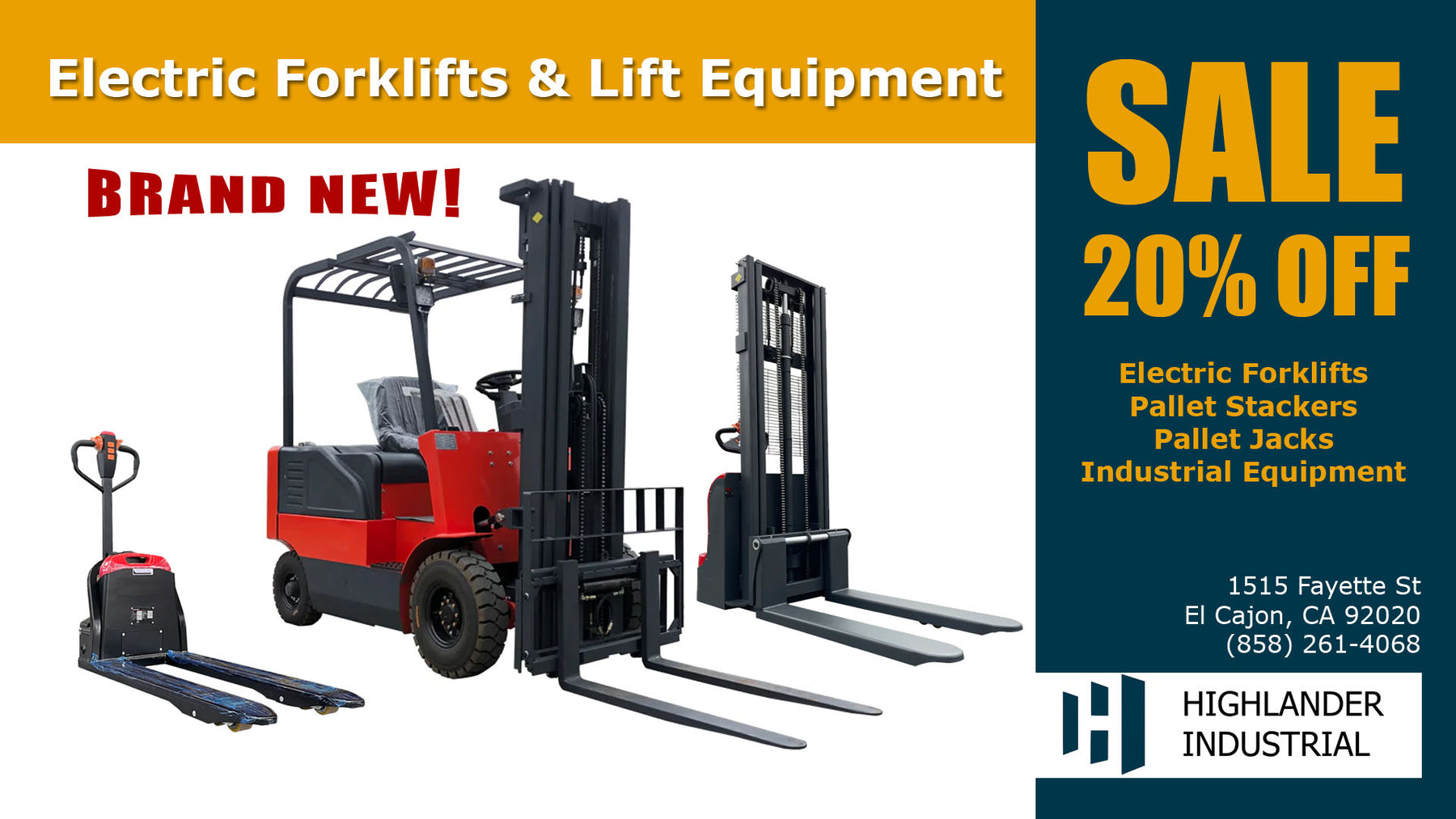 San Diego Electric Forklift SALE! Industrial Lift Equipment
Don't miss out on reduced prices and discounts from Highlander's San Diego Electric Forklift, and lift equipment sale. We offer a lift truck model for every pallet-handling application. Innovative design and solid construction ensure long-lasting value and versatility while ergonomic controls help boost operator productivity. 
For a limited time, enjoy up to 20% off of our electric forklifts, electric pallet stackers, electric pallet jacks, and industrial lift & warehouse equipment. We offer a strategically more efficient cost-effective option to franchise forklift dealers and always place your needs number one.

20% Off Electric Forklifts in San Diego
Our economical electric forklifts are available in 3300 LBS capacity, and 5500 LBS capacity. 
The four-wheel Electric Forklift is an excellent solution for indoor and outdoor applications. With its ability to operate in small spaces, this forklift can move almost any load while maintaining flexibility. Its electric-designed and built DC motor provides exceptional performance, efficiency, and reliability, which translates to increased productivity.
These electric forklifts come with a standard 110 Volt charging system allowing for hassle-free charging. No need to worry about compatibility issues – this forklift is ready to plug and play!
Electric Pallet Stackers SALE
Electric pallet stackers are a good alternative to forklifts. Our full line of operator-friendly stackers offers extraordinary maneuverability and application flexibility to fit a variety of environments. Compared with forklifts, electric stackers are much smaller in size. This make them ideal for small warehouses and limited space areas. Besides, electric stackers are also more nimble than forklifts. It means that they have better maneuverability, thereby they can easily move and turn around in confined spaces.
Walkie stackers: These are the most common type of electric pallet stacker. They are operated by a walking operator who stands on the ground and controls the stacker with a handlebar.
Rider stackers: The rider stackers come with an exclusive fold-up platform allowing operators to select between rider or pedestrian functionality.

Electric Pallet Jacks
Our electric pallet jacks are the best economical solution for pallet trucks. It's compact design, maneuverability and durability also make it ideal for handling deliveries with ease. That's outstanding performance both at the shop and away.
Increased efficiency: The front single wheel design allows for easy navigation in tight spaces, optimizing productivity.

Enhanced versatility: The pallet jack's fork outside width of 685 mm accommodates a wide range of pallet sizes, making it suitable for various applications.
Extended battery life: The 24 v/ 30 Ah Lithium Battery provides a longer runtime, reducing downtime for recharging.
Convenient charging: The included charger allows for quick and easy recharging, ensuring minimal interruptions to your workflow.
Noise reduction: The electric pallet jack operates silently, minimizing noise pollution and creating a more pleasant work environment.
Dependable performance: With its strong build and reliable components, the pallet jack can handle heavy loads effortlessly, promoting operational efficiency.
When shopping for electric forklifts, and industrial lift equipment, it is important to consider the following factors:
The type of forklift you need.
The capacity and lift height of the forklift.
The size of the warehouse or distribution center. 
The type of terrain you will be operating in. 
Your budget. 
The condition of the forklift.
The length of the warranty.
The terms of the financing, if applicable.
These are just a few examples of the features of our lift equipment solutions. You can find out more about our San Diego Electric Forklift Sale by contacting us or stopping by our warehouse in El Cajon, CA.